Date:


April 23, 2017


admission: 


Free


FESTIVAL TIME: 


2pm - 11pm


Performance TIME:


3pm


Location:
WEST END MALL, Stage 1
983 Ralph David Abernathy Blvd SW, Atlanta, Georgia 30310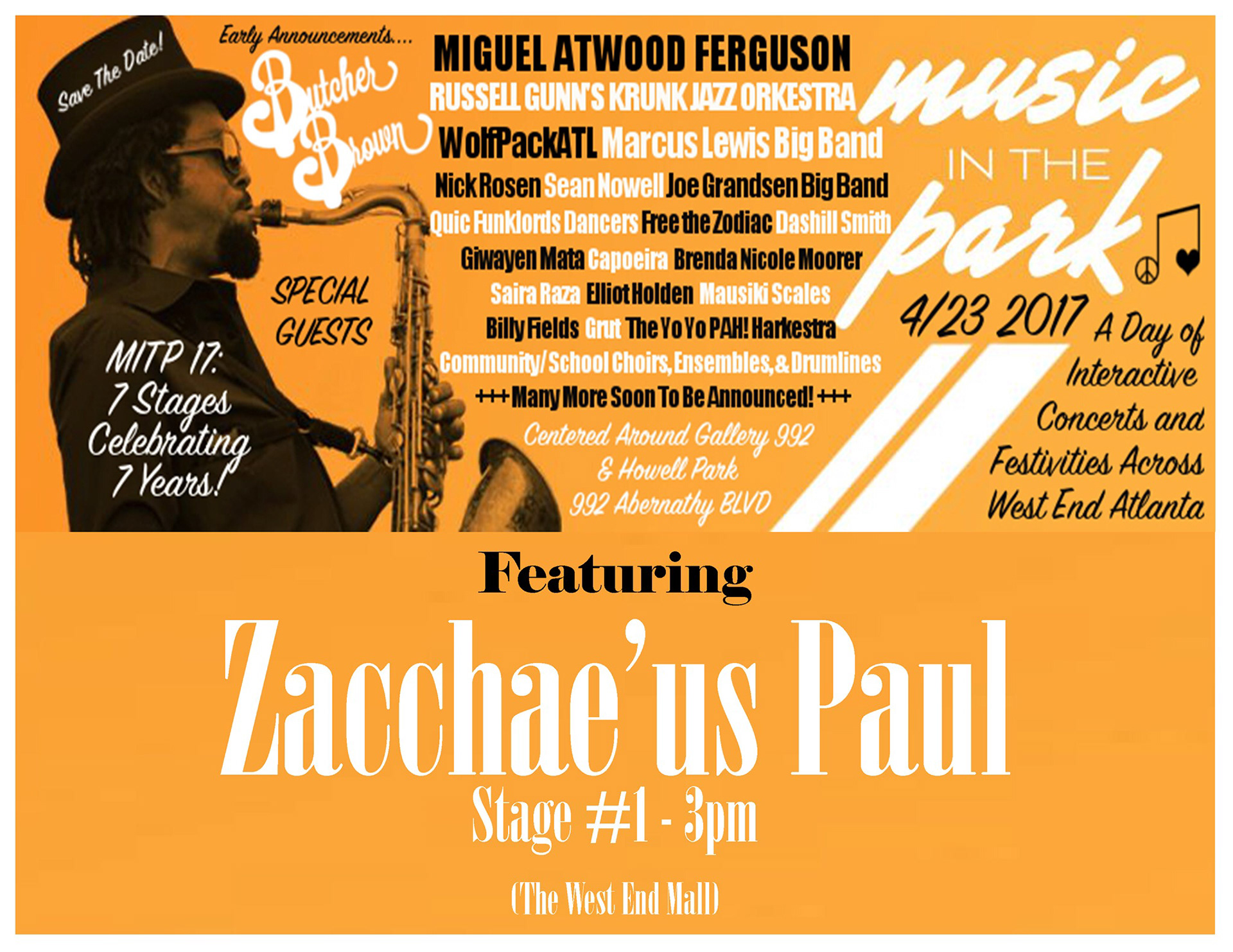 Atlanta, GA: Sunday, April 23, Kebbi Williams presents the seventh year of his Music In The Park festival, which brings high caliber international talent to the residents of West End Atlanta. The MITP charity holds concerts, workshops, and educational events in West End throughout the year, culminating in the festival held each Spring.
"Music in the Park started as Kebbi Williams' vision to display the diversity of the music scene in Atlanta that was underrepresented at the larger festivals in Atlanta. It has grown dramatically in the years since its inception into a festival that rivals the larger more well-funded festivals simply on the determination of Kebbi. He is a true leader in the community. He grew up in the West End, and ever since…he has been determined to have a place that emphasizes higher black arts because, quite frankly, in Atlanta there are dozens of places that emphasize art that appeals to our basic instincts. Music In The Park is a much-needed force in a neighborhood where the negative is the most publicized aspect." -GRAMMY-nominated Jazz Trumpeter Russell Gunn
MITP 2017 boasts seven stages of diverse talent from across the world. The event is held free of charge for the community, and with the participation of Atlanta Streets Alive, welcomes tens of thousands of cyclists and pedestrians from across Atlanta to enjoy the cultural vibrancy of West End: "The Best End." MITP 2017 will host artists from Los Angeles, New York, and all parts in between, playing high caliber Jazz, Rock, RnB, Gospel, Flamenco, and more:
-Highly acclaimed national acts as well as Atlanta legends will perform including: Butcher Brown, Mark de Clive-Lowe, Russell Gunn, and Dionne Farris
-Ensembles from many area schools will perform, and the day will conclude with the MITP Youth Orchestra led by acclaimed maestro Miguel Atwood-Ferguson.
-MITP 2017 welcomes its first international student, Nathan Blyden, who has received a scholarship from MITP to travel from the British Virgin Islands to study and perform at this year's event. 
About MITP: Music In The Park Atlanta was founded in 2010 by GRAMMY-winning Saxophonist Kebbi Williams to provide live music and diverse cultural experiences for residents in his community who had limited access to arts and cultural programming. Its Mission is to enlighten young performers and inspire vibrancy in communities through music and performing arts. The organization has proudly served 5100 students, engaged over 300 professional musicians and presented to 50,000+ people over the past 7 years. Please visit 
http://musicintheparkatl.org/
 for more information. 
SAVE THE DATE: April 23, 2017 is our 7th anniversary of MITP, and to celebrate, we're bringing in artists from all over the world to grace 7 stages of non-stop, high caliber music!
All Artist
Butcher Brown, Miguel Atwood-Ferguson, Mark de Clive-Lowe, Russell Gunn, Wolfpack ATL, Marcus Lewis Big Band, Nick Rosen, Sean Nowell, Joe Gransden Big Band, Yjastros Flamenco Company, Mr. David Brooks (Davidius Brookstien): A West End Story, Quic Rojas, Free the Zodiac, Dashill A. Smith and The Omega Level, Zacchae'us Paul and The Martha Ellen Stilwell Gospel Choir, Giwayen Mata, Capoeira Group, Brenda Nicole Moorer, Saira Raza Official, Elliot Holden, Mausiki Scales and the The Commonground Collective, Billy Fields, Grüt, The Yo Yo PAH! Harkestra, Ra Flautista, Æ - Alpiar Experiment, Chaos Soul, Mwanzi Harriott, James Robertson, El Donuts, CC Sunchild, Jahrichie9 Da Saxy Nu African Groove Maker , GSU Big Band, Clark University, Southwest Dekalb, Tri Cities, Brown, Westlake High, Sandtown, Sutton, and Young Junior High and High School Ensembles and Drumlines, and Atlanta Music Project Choir.
Thank you for seven wonderful years of Music In The Park, and cheers to many, many more. See y'all Saturday April 23!